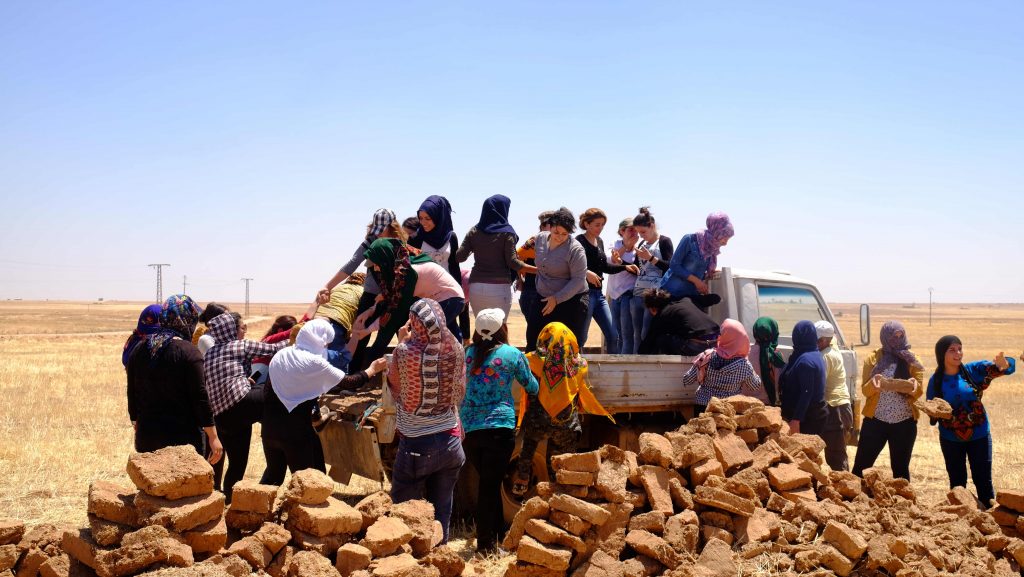 A new kind of resistance is growing in war-torn Syria. In the heart of Rojava, the mainly Kurdish region of northern Syria, there is an embryo of optimism in what some might call a utopian vision of peace in this shattered country. And yet the women of Jinwar village believe that they have founded a community far more durable than the male-dominated society that has been all-but destroyed in recent years.
There is no doubt that Syria's ongoing carnage, and the international disgrace for all sides in their failure in ending the violence, requires systemic solutions. Those solutions are often being pioneered by women, who are increasingly mapping their own futures amid the strife. In societies that are generally seen as male-dominated, it might come as a surprise to some that the present female empowerment has deep foundations in Middle East history.
And while it is important to avoid stereotypes, there is little doubt that efforts led by women often have a very different character than those by male counterparts. "When we as women come together, build the base of our life together and defend each other together, there will be freedom. And with freedom there will be beauty," said a woman identified on the village's website as Cihan, a member of the Jinwar Village Committee.
Jinwar has come to symbolize a different type of community in Rojava, a "village of free women" built by and for women and their children based on an ecologically sustainable model incorporating old wisdom and tools of the past, including mud-brick traditional construction.
"Reconstructing our homes as havens of peace is a significant act of resistance in the face of violence and war," the website states. Building on the cultural heritage and historical knowledge of previous generations of women, Jinwar village aims "to create a way of life in which every woman can reach her full potential free of the constraints of the oppressive power structures of patriarchy and capitalism."
The village was founded in the spring of 2017 as an independent project funded by women's organizations. While the community is still under development, organizers have promised a self-sustainable milieu including gardens, orchards and livestock cultivation. Women plan to conduct lessons on healing and natural medicine while running various workshops as well as a school and an arts center. They are also building a communal bakery and a circular village center with a communal kitchen and assembly area as a shared public space. In the middle of the village circle, they have built a water feature in the form of a star, the symbol of Ishtar, the Mesopotamian mother goddess of love, protection, wisdom and fertility.
But the project is not without controversy. As an anti-capitalist, anti-patriarchal collective, the Jinwar community may faces criticism on ideological grounds, while its application of "Jinology," or "science of women," a concept associated with the jailed Kurdish independence leader, Abdullah Ocalan, will raise hackles in Ankara.
However, despite its Kurdish origins, Jinwar Village is open to people from every ethnicity and religion. In a country and region engulfed in carnage and death, it offers an alternative and a more fulfilling life in the midst of violence and loss, one that taps into feminine energy and ingenuity. It is also no coincidence that a project led by women places so much emphasis on sustainability, nurturing and community.
But do not be fooled into thinking that these women are just gardeners and cooks, or that the feminine can be equated with weakness. This is after all Syria, a cauldron of violence almost no one can escape. For example, women from many backgrounds – Kurdish, Arab, Turkmen, Assyrian and even western European – have joined the all-female Kurdish militia in Syria, the Kurdish Women Protection Units, whose soldiers have been fighting and dying alongside men since 2012.
Nor are women's battlefield contributions confined to the Kurdish forces. Iraq's Banat Al Haq, which literally translates as "girls of righteousness," fought in Anbar region, which until recently was controlled by ISIS. The women in uniform include widows and mothers who have lost loved ones to the extremists' violence.
As a journalist who has covered wars, I have often been amazed at the courage of these women. Stories abound about how women have stood their ground, sometimes wielding only pots and pans, to defend their homes and loved ones after the men have been killed, or even ran away.
In fact, this phenomenon is nothing new in the region. One of my favorite lines in the book "The Conquest of Al Sham," by the Arab historian known as Al Waqidi (747-823AD), reads: "After seeing the women fight, the men would return and say to each other, 'If we do not fight then we are more entitled to sit in the women's quarter than the women.'" His account tells of the battles against the Byzantines, which featured one of Islamic history's bravest of generals, Khalid Ibn Al Walid, as well as the legendary "black knight," Khawlah bint Al Azwar – an Arab woman disguised as a man in black garb with a green shawl. She has become the stuff of legends. "The mysterious warrior pounced on the enemy like a mighty hawk on a tiny sparrow in an attack that wreaked havoc in the Byzantine lines," wrote the historian.
Her story is still relevant today, with the Gulf's first military college for women based in Abu Dhabi named after her. The college opened in 1991, after the first Gulf War, to prepare young women for careers in the military. This past February, Saudi Arabia introduced a similar initiative, for the first time allowing applications from women to join the armed forces.
We have seen the carnage wrought – by men, many of them from foreign lands – in Syria and Iraq. Women's contributions, on the battlefield or in shaping more resilient communities such as Jinwar, offer a different narrative, and one that quite possibly points to the beginnings of the road out of the current morass.
Rym Tina Ghazal is a peace ambassador, thought/youth leader, documentarian, lecturer and author. In addition, she is an award-winning journalist with over 15 years of experience. In 2003, she became one of the first women of Arab heritage to cover war zones in the Middle East.
Photo courtesy Jinwar