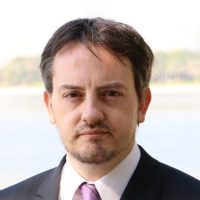 Robin Mills
Robin Mills is founder of Qamar Energy, established to meet the need for regionally based Middle East energy insight. He is an expert on energy strategy and economics, and has been described by Foreign Policy magazine as "one of the energy world's great minds." Prior to this, Mills led major consulting assignments for the EU in Iraq. He also consulted for a variety of international oil companies on Middle East business development, integrated gas and power generation and renewable energy.

Mills worked for a decade at Shell, concentrating on new business development in the Middle East. He subsequently worked for six years with Dubai Holding and the Emirates National Oil Company, better known as Enoc, where he advanced business development efforts in the Middle East energy sector.

He is a fellow at Columbia University's Center on Global Energy Policy, a senior fellow of the Iraq Energy Institute and previously a non-resident fellow for energy at the Brookings Institution. He is currently a columnist at The National and Bloomberg, and the author of "Sunrise in the Desert," on solar energy in the Middle East, and "The Myth of the Oil Crisis" and "Capturing Carbon."

Mills holds a first in geology from the University of Cambridge, and speaks Arabic, Farsi, Dutch and Norwegian.